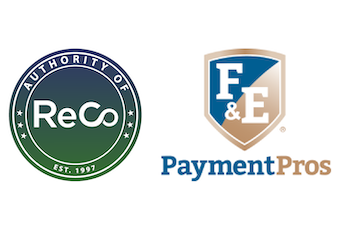 ReCo Cashiering and F&E Payments Announce Partnership
ReCo Cashiering and F&E Payments Partner to Deliver Comprehensive Payment Solutions to Municipalities Across the Country
ReCo Cashiering, a subsidiary of the fintech company 100GROUP, is excited to announce a strategic partnership with F&E PaymentPros to roll out an exclusive offering that will benefit small to medium size government municipalities across the country. This partnership is based on decades of experience from each company doing what they do best.
By combining their knowledge, skills, technology, and most importantly VIP level customer support, ReCo and F&E PaymentPros become a one-stop shop for their mutual clients. Together they are a force to be reckoned with and their collaboration will offer municipalities across the country access to an exclusive suite of products and services making it easier than ever for their clients to collect payments from their constituents. Municipalities need reliable partners who can provide them with world-class payment processing solutions – and that's exactly what ReCo Cashiering and F&E PaymentPros are committed to delivering.
"We are very excited about this new partnership; it allows us to combine our skills and knowledge to bring the best possible government revenue management options to our mutual clients. Both being leaders in our own offerings for 20+ years, by collaborating together we are the only single point of all-encompassing offerings for government and municipalities nationwide," said Jeff Brodsly, CEO, ReCo.
"This partnership unites ReCo's software technologies and F&E's support and service expertise together, providing mutual clients with solidly supported solutions and even broader services. With both companies focusing on payment processing solutions coupled with the ultimate level of customer service, clients will stay ahead of the curve in collecting payments through a multitude of avenues." Said jBrad Lewis, President, F&E PaymentPros.
If you're looking for a comprehensive solution for your municipality's payment processing needs, look no further than ReCo Cashiering and F&E PaymentPros. Their strategic partnership offers an unbeatable combination of experience, knowledge, and technology that will make accepting, posting, and depositing payments easier than ever.
About ReCo:
For more than two decades ReCo has been the leader in providing state-of-the-art technology solutions to County and City Governments across the United States. Our revenue collections software offers local governments opportunities to improve services and reduce costs in ways that could not have been imagined a few short years ago. Cashiering and bill payments, financial interfaces, image processing, check processing, credit card processing, courts, law enforcement, utilities, city permits, and more – is what ReCo clients depend on us for.
About F&E PaymentPros:
F&E PaymentPros has been providing secure payment processing solutions for over 100 years. Starting with securing the paper check in 1914, the company has remained relevant by evolving into providing and supporting a variety of payment processing solutions from traditional cash to sophisticated electronic systems. Its latest offerings include self-service payment centers (kiosks) that expand business hours and minimize the demand on customer service representatives for those constituents that still like to handle transactions in person. Fast & Efficient, Safe & Secure, the F&E way.
For more information on how this powerful duo can help your municipality streamline its payment processes click here